A.C. Frieden is passionate about his literary research as he seeks to bring as much realism and authority to his novels. Today, you'll often find him in a far-flung hotspot researching his future mysteries and thrillers, like his recent investigative travels to North Korea, Russia, Cuba, China, Qatar, and India. He has faced the chaos of a Central American coup, piloted small planes over the Andes and the Panama Canal, explored remote underwater sites in the Indian Ocean, surveyed the damaged Chernobyl nuclear power plant, followed the Che Guevara trail in Bolivia, tracked down drug traffickers in Paraguay, explored former Soviet and U.S. missile bases, roamed the streets of North Korea's capital, and much more across nearly 80 countries. He also has used his scuba training, pilot's license and former military experience to enhance his research. The following are some recent articles about A.C. Frieden's research:
Russia, Finland, and North Korea –Click here
Poland, Russia, Qatar, and India –Click here
Paraguay, Serbia, Nicaragua, China, and Vietnam –Click here
Turkey –Click here
For more info, click the infographics, maps, videos and press releases below.
Infographics about A.C. Frieden's globetrotting literary research:
Ukraine
Chernobyl, ICBM launch site, Kiev
North Korea
Pyongyang, Kaesong and the DMZ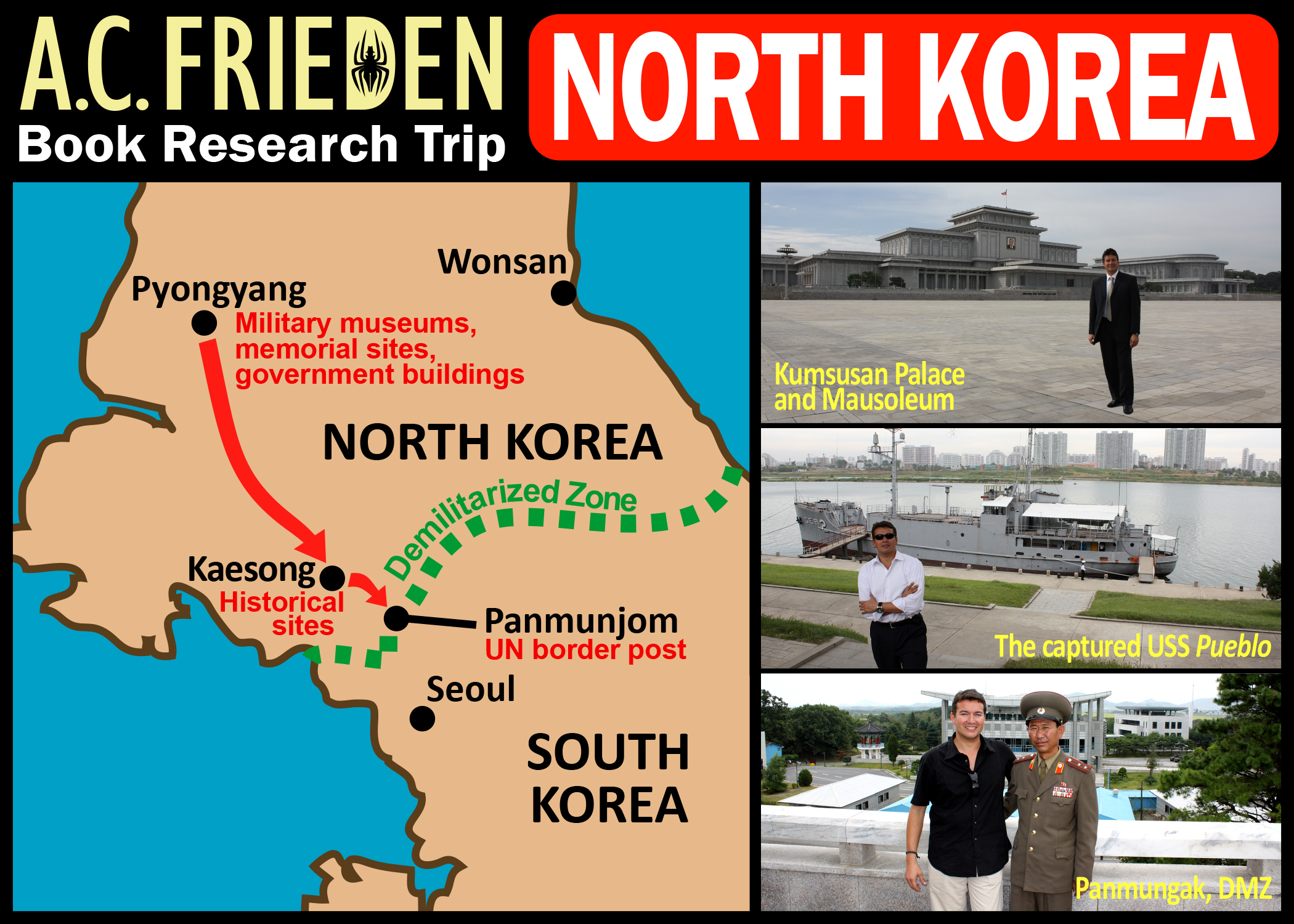 Nicaragua
Ortega's gov't, a volcano and more
Russia
Research in Moscow (10+ trips)
Sweden/Denmark
Stockholm, Copenhagen, etc.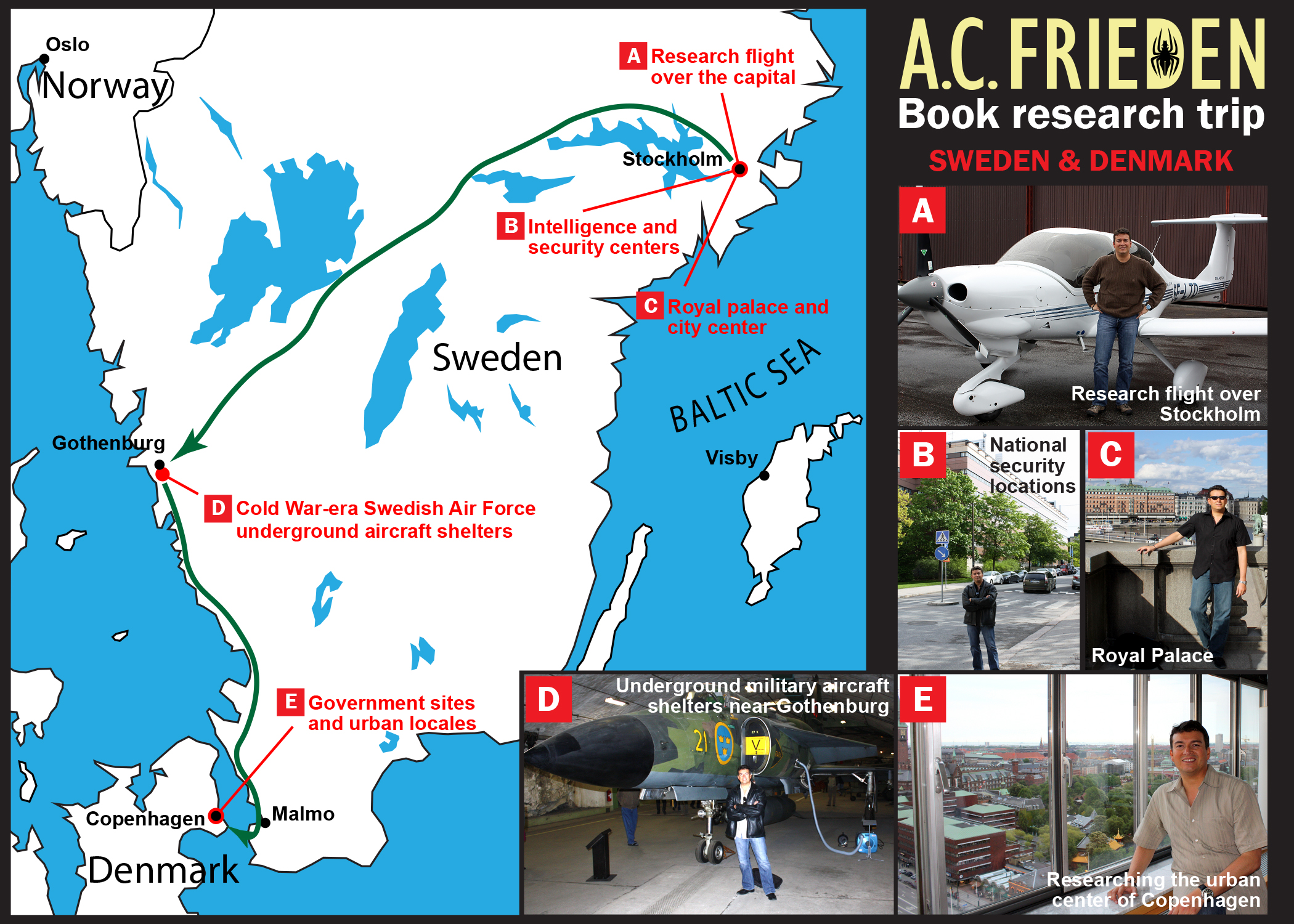 Bolivia
The Che Guevara trail
Cuba
Various locations in Havana
Eastern Europe
Bulgaria, Romania, Poland and more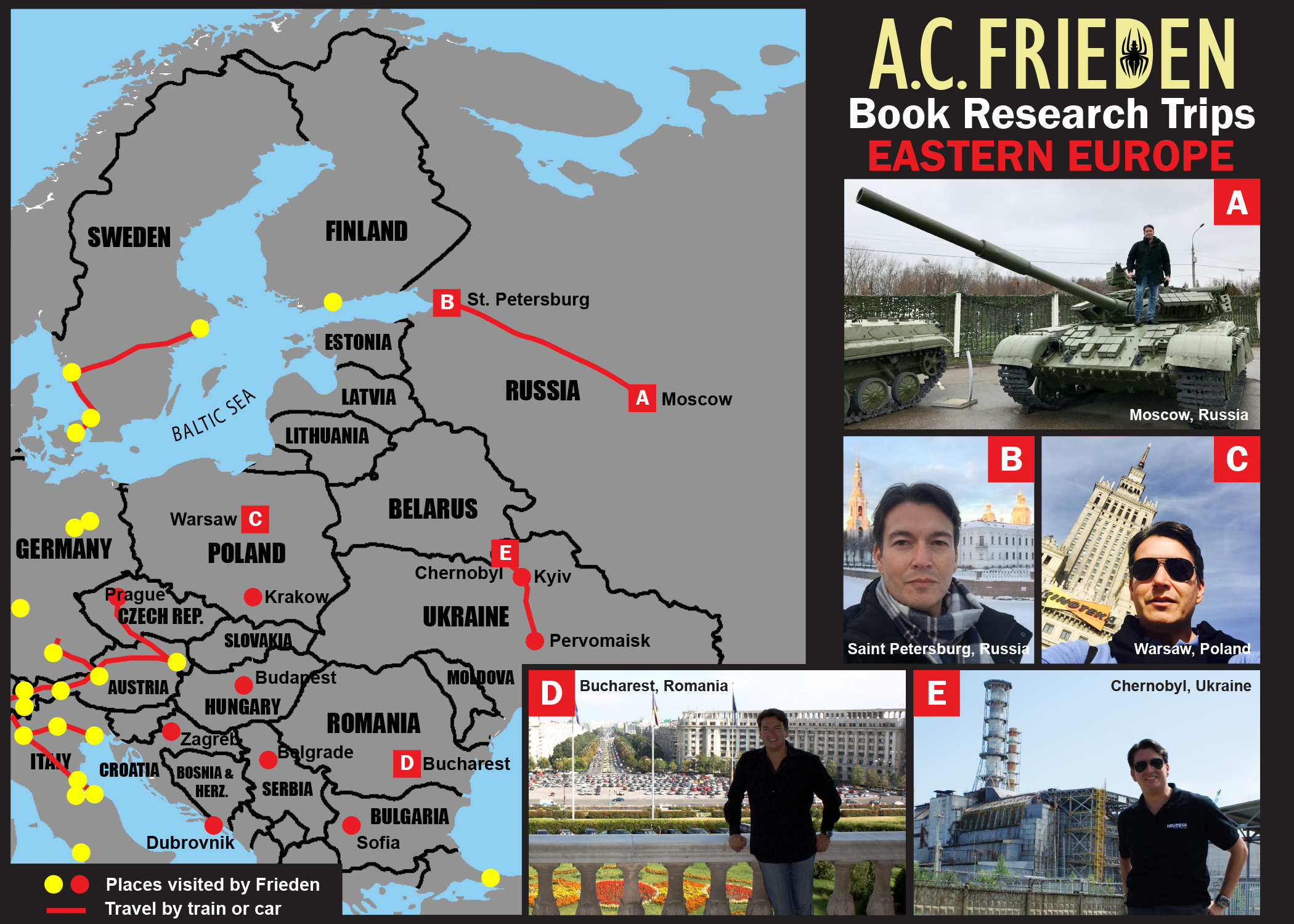 Italy
Como, Verona, and Venice
India
20 trips and 18 locations
USA (Arizona)
Former ICBM launch site more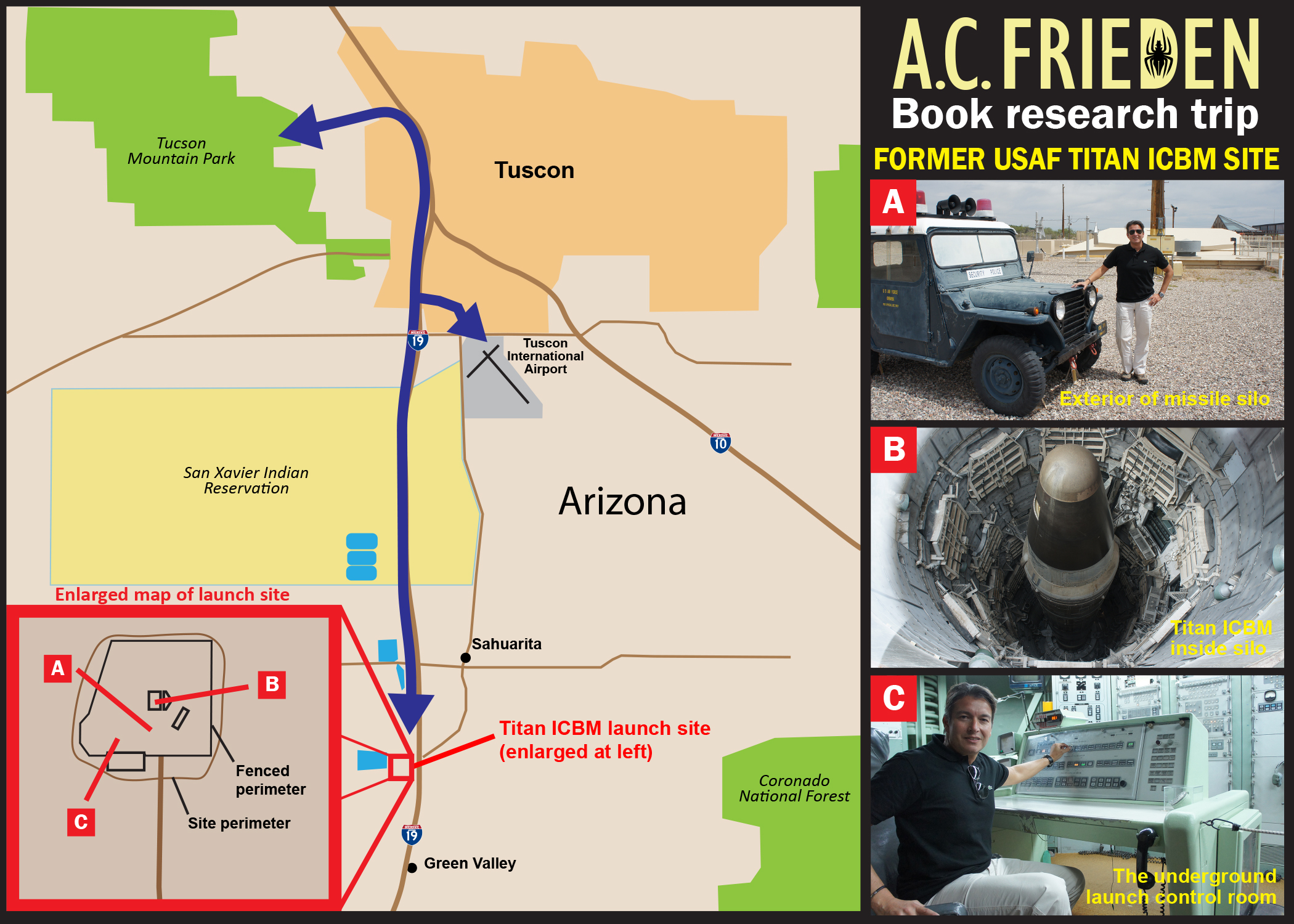 Chile
Santiago and the Andes
Vietnam
Ho Chi Minh City, Hanoi, and Halong Bay
USA (Louisiana)
New Orleans
USA (Nevada)
Area 51 and Delamar Dry Lake
Argentina
Buenos Aires and Bariloche
Uruguay
Montevideo, Colonia, and Punta del Este
Peru
Lima, Cusco, and Machu Picchu
Southern France & Monaco
Perpignan, Nice, and Monte Carlo
Spain & Andorra
Barcelona, La Vella, and Seu d'Urgell
Scotland
Edinburgh
Finland and Russia
Helsinki and St. Petersburg
Morocco
Marrakech, Ait Benhaddou, etc.
USA (Wisconsin)
Madison, Milwaukee, and Lake Geneva
Venezuela
Caracas
USA (Florida)
Miami, Everglades and the Keys
Switzerland
The cities and the Alps
Senegal
Dakar and Saint Louis
Mexico
Mexico City, Acapulco and more
Panama
Panama City, Colón, and Isla Grande