THE JONATHAN BROOKS THRILLER SERIES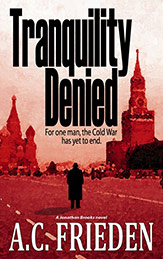 Available today!
BUY BOOK TRAILER
"An intriguing tale of power, corruption and hidden truths…"
--Dana Kaye, CRIMESPREE MAGAZINE
"As good as Grisham and Forsyth's best."
--Marc Paoletti, author of Scorch
"An exciting journey back to the Cold War."
--Patricia Rosemoor, author of Skin
"Captivating espionage tale."
--Francis Gary Powers, Jr., COLD WAR TIMES
"Full of excitement to the very end."
--Heather Froeschl, BOOKREVIEW.COM
"Frieden one-ups fellow lawyers John Grisham and Scott Turow."
--Bathsheba Birman, NOTFORTOURISTS.COM
Hotshot maritime lawyer Jonathan Brooks may finally be in over his head. He can't find evidence that his client's ship was rammed by a U.S. Navy vessel--evidence he needs to win his trial and help his client escape certain bankruptcy. But after Jonathan's courtroom tactics expose a Navy captain lying under oath, the case takes a series of shocking turns, dredging up haunting memories of Jonathan's deceased brother. He soon realizes that the trial masks a vastly more sinister plot veiled by the shadowy past of the Cold War. To uncover it, he's forced to risk everything--and everyone--he holds dear. Lives and corporate empires hang in the balance as he embarks on a hunt for the truth, which will lead him through the sultry alleys of New Orleans to remote Scandinavian villages, and deep into Moscow's dark corridors of power.
View larger BOOK TRAILER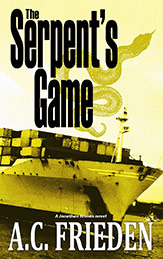 "A solid espionage novel."
--KIRKUS REVIEWS "
"An intelligent and intriguing spy thriller."
--CRIMESPREE MAGAZINE
"Frieden keeps the suspense high...in this gritty, complex and satisfying thriller."
--Jamie Freveletti, #1 Amazon bestselling author of Dead Asleep and Robert Ludlum's The Janus Reprisal
"Some of the best writing about the early hours of Katrina..."
--M.K. Turner, BOOKREVIEW.COM
"A top-notch thriller with an international flair."
--Marc Paoletti, author of Scorch
You don't stand and wait as Hurricane Katrina barrels down on New Orleans, unless you don't have a choice, and maritime lawyer Jonathan Brooks has none. His career in shambles and duty bound to help a figure from his past locate her missing nephew feared drowned in the Mississippi, Brooks is burdened with responsibility and devoid of options. But Mariya is no friend. The sultry Russian provocateur saved his life a decade ago but not without dragging him into a world of murder, mayhem and deceit. As darkness bleeds into the Crescent City, Brooks' search for the truth behind a body in the river catapults him into an international storm that sweeps into the espionage underworld of Russia, the intelligence centers of Washington, D.C., the politics of North Korea, the waterways of the Panama Canal, the back streets of Havana and the barrios of Caracas—and into the heart of Jonathan's own darkness.
View larger TRAILER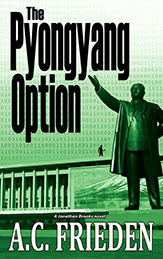 Spring 2015
Jonathan Brooks returns in another adrenaline-packed espionage thriller set mainly in Ukraine and North Korea. Book launch details coming soon.
Fall 2015
Jonathan Brooks returns in another adrenaline-packed espionage thriller set in Turkey, France, Brazil and the Caribbean. Check soon for details.